In The Craft of Scientific Communication, Joseph E Harmon and Alan G Gross give their readers a comprehensive look at the scientific article and explore techniques for presenting research orally and writing proposals. The book is intended for an audience of scientists, but it can also be useful to science editors, science journalists, and others involved in communicating scientific information.
From the start, Harmon and Gross want their audience to know what distinguishes their book from other publications on scientific communication. "Our book offers something different," they state. "To start with, we base our chapters on how good scientists actually write—not how we think they ought to write." The authors' main goals are to teach readers to use writing and visuals as practical tools to communicate to peers and to the general public.
Harmon, a senior writer and editor at Argonne National Laboratory, and Gross, a professor in the Department of Communication Studies at the University of Minnesota, understand the importance of clear written and oral communication in science. Throughout the book, they use their expertise to analyze published work to show how scientists communicate well.
The book consists of three parts. The first part focuses on the sections of the typical scientific article, from title to references. Topics in this part include creating informative abstracts and, conversely, avoiding dull and uninformative abstracts. The authors also discuss producing an appropriate title, framing methods, and correctly giving credit throughout a paper. In Chapter 4, "Turning Your Evidence into Arguments", they explore how to discuss the results, for example, through use of comparisons and qualifications. The authors use tables and figures from published works as examples.
In the second part, "Beyond the Scientific Article", the authors concentrate on research proposals, going public with one's work, and communicating science orally to other scientists and to a lay audience. The authors dedicate two chapters to PowerPoint presentations. Many presenters find it difficult to hold the attention of their audiences, and Harmon and Gross use these chapters to present suggestions for engaging an audience's attention. Topics of the suggestions range from choosing the best type of illustrations to creating effective lists to organizing PowerPoint slides effectively. The authors also steer readers away from items that should not be included in presentations.
The third part of the book centers on writing style and producing a clear and logical article or presentation. The authors note that scientists rely heavily on the passive voice because science "is about objects and events, not people". The authors suggest occasionally using the active voice for emphasis. The last chapter, "Improving Scientific English", includes seven basic guidelines. "We do not claim that these are the only guidelines or questions with which to improve scientific English. We claim only that they are easily comprehended and, after a little practice, easily applied." The guidelines are
Add context.
Explain the significance of your measurements and observations.
Be precise.
Specify the agent of actions if not evident from the context.
Trim back excessive nominalizations and eliminate the superfluous.
Weed out the ambiguous or unnecessarily complex.
Use clear transitions.
The list also includes questions for "selftesting" to ensure correct application of the guidelines. The seven-step list not only is user friendly and easy to follow but will help to boost an article that does not need a great deal of editing but just needs a "brushup".
Besides the content, organization is a strength of The Craft of Scientific Communication. Each chapter has a clear title that states its goal. Within the chapters, the authors identify each main idea with a subheading that leads to examples that the authors analyze. The real-life examples of effective and ineffective communication are valuable tools. The authors explain and justify the use of each example and show why it fits into the chapter. The examples are followed by a conclusion and then exercises that are related to the chapter's purpose. Fortunately, the authors often give answers to the exercises, so readers can be sure that they have understood and learned the lessons in the chapter. Finally, at the end of the chapter, Harmon and Gross provide a bulleted checklist of questions for readers to apply to their own work.
Harmon and Gross have created a highly useful tool in The Craft of Scientific Communication. The book has the benefits of a traditional textbook in that it is written in a consistent, easy-to-read format with defined sections in each chapter and "tests" at the ends of the chapters. However, the authors communicate the information in a manner that is livelier than most textbooks. I recommend this book to beginners in the field and to experienced professionals who want to brush up their skills and get pointers for their next presentations or publications.
BARBARA MENDOZA, a graduate student in science and technology journalism at Texas A&M University, wrote this book review while a Science Editor intern.
---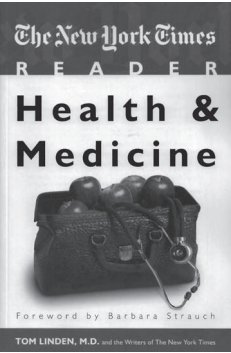 Two years ago, I decided to change careers—the orthodox physician career track was just not for me. I always liked medical writing, so I searched the Internet and found an interesting lead on the Medical & Science Journalism Program at the University of North Carolina at Chapel Hill (UNC). I contacted Director Tom Linden, the author of The New York Times Reader: Health & Medicine, and he was gracious enough to answer my e-mails.
After thinking about my options, I recognized that UNC wasn't in my cards. I was planning a life with my fiancée in southern Texas, and I needed to find a local and affordable answer. Linden was compassionate and, luckily, he recommended that I contact Barbara Gastel at Texas A&M University. Two years later, I'm happy. I learned much from Dr. Gastel, and now I'm a medical reporter and editor!
Linden is a fluid writer, and The New York Times health and medicine articles he examines are what one would expect of The New York Times. Linden uses his comments on the strong work of such writers as Lawrence K Altman, Carl Zimmer, and Gina Kolata as a catalyst for educating the reader.
Who among us reads as much of The New York Times as we should? I was subsisting on a steady diet of Associated Press mush, style guides, and TMZ celebrity gossip. But this book changed all that. I read dozens of good stories that I had missed and enjoyed the commentary and perspective of seasoned journalists. Consequently, I was privy to so many fascinating medical-journalism tidbits. For example, I was floored by Altman's intimate portrayal of the man behind the legend, Michael E DeBakey, as DeBakey became the oldest person to receive an aortic-dissection repair—a surgical intervention that he invented.
Examining other writers' work is enlightening, and Linden appreciates this fact. One interesting theme that Linden explores is the need to consider science, ethics, politics, and so forth when reporting a story. Even though many veteran reporters do that almost reflexively, it's important to be reminded. There are also good explanations on quotation use—something with which even the best of writers struggle. I especially like Linden's explanations of different types of news stories, feature stories, and commentaries. I was surprised (and reassured) that much of what Linden writes about I had already learned in science-journalism school.
However, I wish there had been more to some of the explanations. For example, one hazard of being a medical reporter is the public-relations dance. Sometimes reporters have to manipulate an institution's public-relations department to receive the right interviews and information. Linden mentions "media affairs specialists" (p 129) but says little else about institutional public relations.
In another example, Linden mentions that starting a story with a question is "not a technique recommended for news or most feature stories but permissible in a column" (p 162). That is a good point, but I wish he had expanded on it. Many professional writers and editors frown on using questions in the nutshell paragraph (nut graf).
Each chapter ends with a set of exercises titled "Making Connections". I was pleased with how well Linden's exercises tested analysis, application, and synthesis—no doubt because Linden is a seasoned educator all too familiar with the Bloom Taxonomy of Learning Domains. One particularly amusing example: Linden advises the reader to write a "fake" obituary about a prominent scientist in the community. He encourages the reader first to interview the scientist's colleagues and friends and later the scientist, but Linden cautions the reader to leave out details about the death. (It would probably be disconcerting for someone to read that they were just were eaten by a great white shark or were electrocuted after sticking a fork in the toaster!)
One of my biggest complaints about this book concerns the lack of organization. I believe that good books anticipate a reader's needs and that organization is the key to pleasing the reader. This book lacks an index and a glossary, important terms aren't in boldface, and there are no chapter summaries or key points. In addition, a section on how Linden chose the articles that he reviewed would have helped the reader to understand why Linden heaped praise on them.
Finally, there were occasional lapses in style that an editor may find unsettling. For example, "mentally ill patient" (p 68) should be "patient with mental illness".
It's tough to write a book. I appreciate Linden's efforts, and I'm glad that I read his book. Ultimately, I would recommend it to people interested in medical journalism, but I believe that it would need to be revamped before I would consider using it as educational material.
NAVEED SALEH is a physician–journalist, freelance editor, and science-journalism graduate student at Texas A&M University.
---
Soon after radio "came out of the laboratory into the world" in the early 1920s, pioneers began using it to popularize science. Science on the Air traces the history of "science coverage on radio."
The early chapters include a discussion of the first broadcast, in 1925, of the American Association for the Advancement of Science annual meeting and of the radio coverage of the Scopes "monkey trial", which "demonstrated that science could be an effective backdrop for radio drama". The book then proceeds through the 1930s and 1940s and discusses World War II–era science coverage (during the war, there was concern that information presented might be used against America by its enemies). The final chapter addresses the first few years of television.
Much of the book presents stories of the men (they were invariably men) who recognized radio as an opportunity to popularize science. Several of them founded the Science Service, a wire service exclusively for science news, which was formally announced in Science in 1921. The service's "success not only demonstrated to editors and publishers that science content could be made interesting to millions of their readers, but also gave popularization increased legitimacy as an activity deserving of every scientist's time and attention."
Although not a quick read, this extensively researched and referenced work is an excellent resource for anyone studying science popularization in the first half of the 20th century. For other readers, the book's main purpose is to aid in "understanding what happened to science's public messages".
CHRISTINA SUMNERS is a science-journalism graduate student at Texas A&M University. She prepared this review while a Science Editor intern.